Já que se falou nisto no sábado passado, aqui vai mais um triunfo de uma Non-Resident Indian:
"After months of training (imagino o que tenha sido, decorar palavra complicada atrás de palavra complicada), in the end it took Kavya Shivashankar, 13, just nine correct letters to be crowned the new US spelling champion. She correctly spelt Laodicean, meaning to be lukewarm or indifferent in religion or politics (é irónico que tenha saído uma palavra que remete para a antiga cristandade…), to claim victory in the 2009 Scripps Spelling Bee. A record 293 spellers, including 28 from countries outside the US, had made it to the final stages of the contest."
http://news.bbc.co.uk/2/hi/americas/8073558.stm
"Kavya, who comes from Kansas (terra da Dorothy, do feiticeiro de Oz…), had made the top 10 in each of her previous three appearances at the bee. She was the seventh Indian American to win the contest in the past 11 years and took home a $30,000 cash prize.
"I can't believe it happened, it feels kind of unreal," said Kavya, who had traced each word on her hand as she spelled it. Her mother, Mirle, said the day was a "dream come true".
Mais um mapa, distorcido para que a área de cada país seja proporcional ao número total de mulheres analfabetas subtraído do número de homens analfabetos: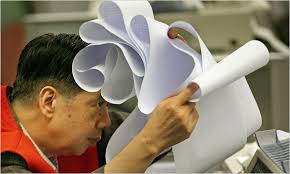 |   | Adult Literacy | Youth Literacy |
| --- | --- | --- |
| China | 91% | 98.9% (2004) |
| India | 66% | 82% (2001) |
| Nepal | 44.0 | 62.7 |
| Pakistan | 41.5 | 53.9 |
| Sri Lanka | 92.0 | 98.0 |
| Bangladesh | 41.1 | 49.7 |
http://en.wikipedia.org/wiki/Literacy_in_India
e em Portugal?
Em 2001, quando do Censo, dez em cada 100 portugueses são analfabetos e apenas um terço completou o 1.º ciclo do Ensino Básico. As regiões do Sul do País que registam a maior taxa de analfabetismo.
Os 9% da média nacional actual são ultrapassados no Alentejo, com 16%, e no concelho de Idanha-a-Nova, no distrito de Castelo Branco, com 32%.
Se em 1991, os números do analfabetismo em Portugal se fixavam nos 11%, passados dez anos, a percentagem baixou 1%. Apesar de registar uma melhoria, o Alentejo continua a ser a região com o maior número de pessoas sem saber ler e escrever (15,9%), seguido da Região Autónoma da Madeira (12,7%). Em 1991, 20 em cada 100 alentejanos não sabiam ler, o mesmo acontecendo com 15 em cada 100 madeirenses.
Pelo contrário, Lisboa é a região com menor taxa de analfabetismo (5,7%) e também aquela em que se verificou uma menor oscilação relativamente aos últimos censos.
As mulheres continuam a registar a maior taxa de analfabetismo em todas as regiões do País, com especial incidência no Alentejo, na Madeira e na Zona Centro. Há uma década, 7,7% dos homens residentes em Portugal não sabiam ler nem escrever, sendo que nas mulheres a taxa quase duplicava, fixando-se nos 14,1%. A proporção entre os sexos mantém-se no último recenseamento, ainda que os números tenham baixado: 6,3 % dos homens e 11,5% das mulheres são analfabetos.
http://www.indexmundi.com/g/r.aspx?c=po&v=39&l=pt
The basic literacy rate of the Portuguese population is 93%, however the functional literacy is amongst the lowest in Europe. According to official sources in 2007, 64% of the population never read one single book; within the population component that is functionally literate, only 17.9% read more than two books in one year (data collected by Marktest for TSF). According to INE (Portuguese Institute for National Statistics), only 3.7 million Portuguese workers (67% of the working active population) completed basic education (81% of the working population attainned the lower basic level of education and 12% attained the intermediate level of education).
– O cartaz inicial é soviético, de 1925 – "Faz algo para eliminar o analfabetismo – vem ajudar a combatê-lo.", ou qualquer coisa assim…