Se juntarmos este senhor,
Vijay Mallya ,empresário e membro da Câmara Alta do Parlamento (Rajya Sabha), não sei se um nomeado pelo/a Presidente se por legislatura estadual, dono da United Breweries e da sua filha já bem crescida Kingfisher Airlines
, entre as 400 pessoas mais ricas do mundo, e o sétimo mais rico da Índia, contam as lendas, dono do Indian Princess
um barquito de 95 metros,………..é até aqui………..
, pois este senhor juntou-se a Michiel Mol, um jovem milionário holandês e por 88 milhões de euros compraram a Spyker F1,
, que na altura ainda só tinha carros movidos por três gajos a empurrar… Daí as suas lacónicas declarações em Outubro de 2007: "Today, after the signing of the official documentation, management of the Spyker Formula One Team has been handed over to the new owners: Orange India Holdings (a consortium of Dr Vijay Malya and the Mol family)."
Nasce assim a Force India.
É uma equipa bisneta da Jordan, do Eddie Jordan, só podem ser boa gente…
Os pilotos são o alemão Adrian Sutil e o mais experiente e pontuado Giancarlo Fisichella
.
Já participaram em dezoito corridas mas ainda não alcançaram um único ponto.
Na época passada, a primeira da equipa, ficaram respectivamente em 20º e 21º na classificação final, entre 23…
Mas os motores são Mercedes V8 de 2.4 litros.
TUDO ISTO TAMBÉM PARA DIZER, esqueçam o autódromo do Estoril. Nova Delhi vai ter o seu grande prémio já em 2011, será nessa altura o nono circuito asiático. Mas o processo não tem andado propriamente a 300 km/h.
Em Junho de 2007 dizia-se isto: "Suresh Kalmadi, president of Indian Olympic Association, announced that the deal for Indian Grand Prix had been clinched and if all went through, New Delhi will host its 1st ever Formula one grand prix in October 2009. The deal is subject to a circuit being constructed in New Delhi and being approved by FIA for its tough safety and other standards. New Delhi will be hosting the 2010 Commonwealth Games, so the 2009 event can be sort of a mini dress rehearsal for the 2010 Commonwealth games."
Em Setembro de 2007 já diziam isto: "India will host its first Formula One race in 2010, the Indian Olympic Association (IOA) announced on Monday. Hermann Tilke, chief architect for the F1 circuits, has inspected various sites in an aerial survey during his visit to the Indian capital. He selected two sites: Greater Noida in Uttar Pradesh and Sohna in Haryana states, both suburbs of New Delhi. It has been decided that the first Formula One world championship will be held in the national capital region Delhi in 2010."
Um ano depois, Setembro 2008, já estávamos assim: "Bernie Ecclestone has delayed plans to stage the race in 2010 even though construction work on the circuit in Delhi should be completed in time for the start of the 2010 season. Ecclestone does not want to take any risks and has decided to push the race back a year.
Mas podemos respirar fundo, que isto vinha no jornal há dois meses atrás: "Land acquisition for the 5.5 km track is on and we are hopeful of completing the exercise by February. The designer and contractor for the job too, have been finalised and we are sure of getting the track ready by February 2011, in time for the championship."
The launch of Force India as one of only 10 teams on the Formula One grid, has stimulated the interest in Formula One in India dramatically and the possibility of Narayan Karthikeyan
and Karun Chandhok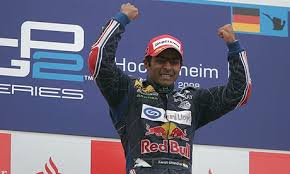 driving in F1, will further spark an explosion of interest that would soon rival that of traditional sports. "
Tudo isto vai gerar, dizem, receitas de 70 milhes de dólares e empregar 10 mil pessoas…
Já agora, para terminar, uma foto do bichinho: